How To Get Internet for Your Home in 3 Easy Steps
3 min read
Selecting the right services for your home ensures you have the resources you want and need. While electric providers charge based on your usage, other services require you to consider your level of demand when you're signing up.
Internet services require more forethought because you can save money by choosing a suitable plan from the start. Underestimating your internet usage could result in bandwidth throttling, affecting your download speeds. Maintaining bandwidth speeds is essential if you work from home and rely on your internet to stream TV programming. Let's look at how to get the right internet plan for your home in just a few simple steps.
1. Identify your needs.
Your internet usage is a primary factor when choosing an internet plan. Consider how many hours you spend using the internet before you start shopping. Suppose you work from home and use the internet for work throughout the day several days per week. Suppose you also access your TV programming through a streaming service. You'd have a high level of demand.
Your internet use increases if you have multiple family members using the internet. For example, many schools around the globe switched to remote learning during the COVID-19 pandemic. Some parents had two or more children using a video chat program to access academic instruction throughout the day, impacting their internet usage.
Financial aspects are another factor to consider. You may have a fixed budget, and that could limit your options when choosing internet service. You may also be shopping for other services you can bundle with your broadband plan to save money. Identifying your needs before you start shopping ensures you focus on suitable plans instead of spending time reviewing plans that won't meet your usage demands or fit your budget.
2. Use a comparison tool.
The simplest way to identify suitable internet plans involves using an internet plan comparison tool. The iSelect internet tool prompts you to answer questions about your broadband needs, starting with your primary consideration when choosing a plan. You may select a price if you have a fixed budget, or you may select more data if you have high usage levels. The tool then asks how many people live in your home and how much your family uses the internet.
The iSelect tool gives you the option of combining your internet service with your TV services or your mobile plan. The tool asks if you have a current provider and whether you're moving to a new home. If you're moving, you can opt to search for an electricity and gas provider and car insurance while researching broadband providers.
Once you supply your name and contact information, the comparison tool presents a list of internet plans suited to your needs. If you've prioritized more data and indicated you have high usage demands, the tool filters out plans that won't meet your usage levels. If you've indicated price is your primary consideration, the tool prioritizes affordable plans.
3. Review the plan information and select a plan.
Use the information supplied by the comparison tool to review plan options. Suppose you indicated price was your primary concern, but you notice you'll get more data by spending just a little bit more per month. You may decide it's worth it to pay for better service if their price is within your budget.
You won't pay anything to use the comparison tool, but you can be confident you'll receive all available options to consider. Since the tool filters out providers that don't service your location, you won't spend time reviewing providers that can't provide service. Use the information supplied to contact the internet service providers and schedule your installation.
Finding the best home internet plan for your needs is a straightforward process if you use a comparison tool. Identify your needs, use the tool to identify suitable plans, and use the information supplied to select a plan.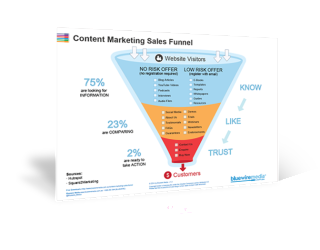 Content Marketing Sales Funnel
Your content marketing sales funnel is all about getting people to know, like and trust you by nurturing them with the right information at the right time.
Download it now