Why businesses must put a stop to it right now
5 min read
It's official: businesses' poorly targeted and overly frequent communications are turning off customers.
According to recent Podium research, Australians' tolerance for uncomfortable communication is declining in the aftermath of the pandemic. The Business-to-Customer Communications Report reveals that convenience trumps cost, with over half of Aussies willing to pay more for convenient communication with local businesses. 
Moreover, nearly three-quarters of Australians will blacklist a company that spams them. What's to be done?
Here's what the study finds:
Almost half (48 per cent) of Australians say that due to the pandemic and the digitisation of businesses, they have less tolerance for local businesses that don't offer easy, convenient or customer-friendly means of communication. 
Fifty-seven per cent would be less likely to engage with a business if the channel were inconvenient. 
Fifty-five per cent would choose a business that offered convenient communication options, even if it was more expensive. 
Dynamic Business spoke with Dave Scheine, Country Manager, Australia at Podium, to understand more about convenient communication and how to make Email/SMS Marketing spam-free and convenient.
Make your marketing spam-proof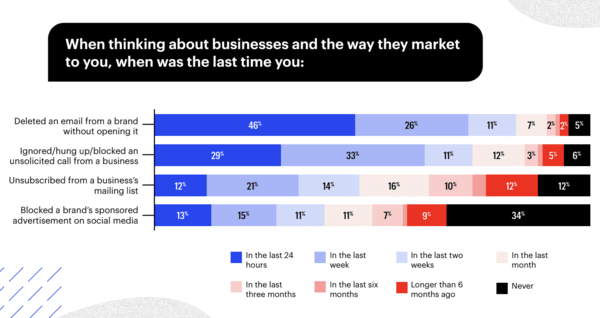 Dave says the key is finding a balance between quality and quantity. "Ask yourself, as a consumer, how often is too often when businesses engage with you? You don't want to receive emails or SMS messages from them every other day, so why would your customers? It's important to assess whether you should be sending that email or SMS based on what you have to offer to your customers," Dave says.
"For example, don't keep following up with the same discount or content. Instead, consider how to provide value in every interaction rather than sending a message for the sake of sending a message. By finding a happy medium that conveniently delivers quality, your customers are more likely to find your marketing useful and engaging, which will increase their loyalty to your business as a result." 
SMS reigns supreme, email waning 
For 59 per cent of Australians, SMS was their primary or second choice of communication with a local business. It comes as the most convenient channel for consumers to change.
Younger people are more inclined towards businesses that utilise SMS to communicate.
Almost 50 per cent of Australians under 35 years of age are more likely to respond to a business over text and to continue to use that business in the future.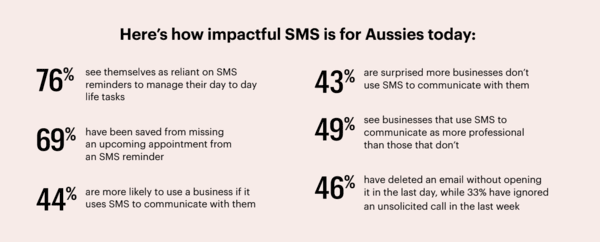 The desire of Australians to engage with local businesses has undergone one of the most significant changes. The typical Australian uses their smartphone for about two hours (119 minutes) every day, with one in four using it for at least three hours. 
Exploiting this fondness for and reliance on cell phones is a big opportunity for Australian businesses. In fact, 49 per cent of Australians believe that companies that communicate via SMS come across as more professional than those that don't.
It happens as the channels that consumers find a most convenient shift. SMS has eclipsed email as the preferred method of communication between companies and customers. Six in ten (69 per cent) Australians say an SMS reminder has prevented them from forgetting an upcoming appointment, and three-quarters (76 per cent) say they depend on SMS reminders to handle daily activities. 
As email loses its influence, SMS becomes more valuable. In the last 24 hours, over half (46 per cent) of Australians deleted an email from a company without examining it, and nearly two-thirds (62 per cent) disregarded an unauthorised call from a company in the previous week.
"Today, we live and work on our smartphones. According to Podium's research, the average Aussie spends two to three hours daily on their phone. Convenient communication is about targeting them on platforms they're already using," Dave notes.
"What better way to do that than tapping into this affinity to, and reliance on, smartphones? In fact, with 55% of Aussies prioritising businesses based on convenience, and younger people more inclined towards businesses that utilise SMS to communicate, this is now more important than ever. Especially so when considering the research also revealed that three-quarters of Aussies rely on SMS reminders for day-to-day tasks."
Consumers are losing patience with businesses that fail to cater to their preferences
As per the study, for businesses targeting a broader age demographic, convenient communication is just as important
Only 12 per cent of Australians over 55 are happy to interact in their non-preferred method.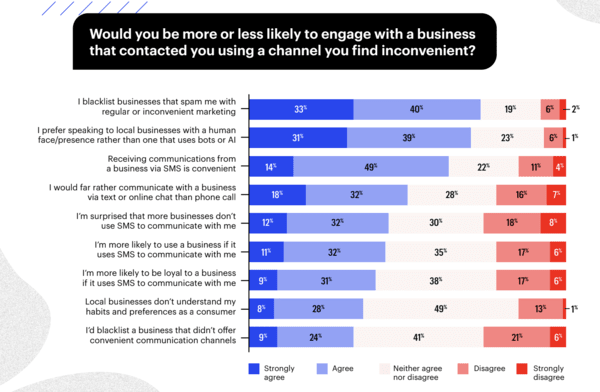 Dave explains that asking for customer feedback is the easiest and most effective way to understand customer preferences. 
"The more your business can tailor its approach and operation to the needs and desires of your customers, the better customer experience you can provide. We've found that previously-effective channels like phone calls and emails are now losing traction, with methods like SMS becoming more popular because of their convenience. 
"More than half (57 per cent) of the Aussies surveyed said they'd be less likely to engage with a business if the channel were inconvenient, so take the time to find out what your customers want and cater to their needs rather than doing what works for your business. Ultimately, the more you show you're listening to your customers and acting on their feedback, the more valued they'll feel." 
Convenience over cost
More than half of Australians said they would be willing to pay more for a company that provided a variety of practical communications. Most Australians prioritise convenience over price, with 55 per cent choosing businesses based on convenience even if they were more expensive than a rival.
"Australia is home to millions of innovative local businesses, but it's not easy to compete on price or product in a saturated market. Our research shows that many consumers now judge businesses based on communication, with many willing to pay more money for a more convenient experience," commented Dave
Stop the spam: Key takeaway
Emphasising the importance of convenience for consumers today, Dave says, "Perhaps the biggest takeaway is the extent to which Aussies demand convenience today. 
"Cost has always been a determining factor when choosing a business, but over half would choose a business that offered convenient communication options, even if it was more expensive. This is incredibly important learning for local businesses and should be viewed as an opportunity, not a challenge. 
"The more convenient your business engages with it, the more your customers' affinity with it will grow. Today, as global economic pressures loom, convenience can be an easy and cost-effective way to drive real value for your customers and, by extension, your business."
For more data, including state-by-state breakdowns, view the report here. 
Visit Podium here.